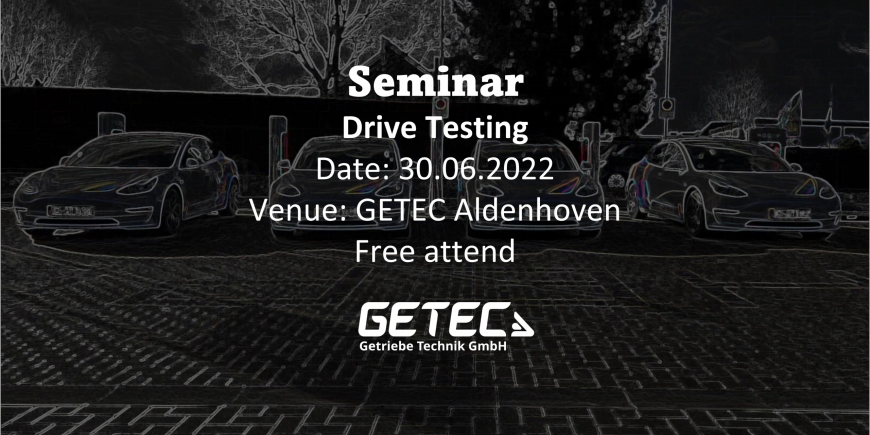 2022 GETEC Drive Testing Seminar Invitation
Dear Friends,
We sincerely invite you to join our seminar on Driving Testing in GETEC Aldenhoven on 30.06.2022.  In the seminar, you will get a complete overview of the automotive test process and understanding the key techniques and tools used in testing can better help you with your strategic planning for product development. We are fortunate to have our partners: COMPREDICT and Meta, who will share their experience respectively in virtual sensor applications and investigations of the vehicle test bench.
Drive Testing is independent of any testbench capacity, it is possible to evaluate the complete vehicle and the measurements are representing the real usage on the road including different weather conditions, different driver types, different road profiles and conditions like rush hour, and traffic jams, etc..
This testing has below obvious advantages:
Quick to start the test with real environment compared with testbench
Represent real load vs simulated load on testbench
test the complete system on the road
Capture the real road data for use on testbench
30.06
Time
Topic
Speaker
AM
9:30-9:45
Welcome and introduction
Mr. Joachim Trumpff
General Manager
GETEC
9:45-10:35
Vehicle Testing on the road
-Advantages of vehicle testing
-What should be considered in the preparation
-How to conduct the testing
Mr. Torsten Hempel
Application Expert
GETEC
10:35-10:50
Break
All
10:50-11:20
How Virtual Sensors provide vehicle test data, at large scale
-How does a Virtual Sensor work?
-Overview of COMPREDICT's Virtual Sensors Platform
-Dedicated data loggers for R&D with LTE and unlimited data volume
-Benefits of Virtual Sensors in terms of cost reduction and acceleration of testing and development
Dr. Rafael Fietzek
Co-Founder – Executive Director
COMPREDICT GmbH
11:20-11:50
Data Measure and Analysis
-Drivers behavior analysis
-Speed and consumption power check
-Load evaluation
-How to use data for test cycle
Mr. Lucas  Crampen
Application and Testing
GETEC
Noon
12:00-13:30
Lunch
PM
13:30-14:00
Vehicle Testbench Investigations
-Different test bench setups for different investigation targets
-benchmark investigations
-performance investigation
-NVH measurement
Mr. Olaf Metzger
Director Hybrid Systems and Controls
Meta Motoren- und Energie-Technik GmbH
14:00-15:00
Car demo with sensor and datalogger
Mr. Redzo Sakanovic
Application and Testing Manager
GETEC
15:00-15:30
Product Development and Optimization based on  Road load data
-Requirement definition
-Product verification and optimization
Mr. Torsten Langheinrich
Design Drivetrain Development Engineer
GETEC
15:30-16:30
Testbench tour
Mr. Joachim Trumpff
General Manager
GETEC
16:30-17:00
Q&A
All
17:00-17:15
Certificate ceremony
Seminar Information:
Date: 30.06.2022
Time: 9:30-17:15
Venue: GETEC Aldenhoven, Germany
Registration:
Free attend, 1st order, 1st get
This seminar is free for our attendees with limited seats, so strongly recommend you to confirm your seat in advance.
Registration is required to guarantee your seat: marketing@getec-gmbh.com or Michael.Spielmann@getec-gmbh.com